---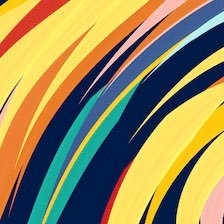 ---
Shapes on a Plane
---
---
---
Project #15053
Published on June 17, 2022 at 17:14
---
"Shapes on a Plane" explores imaginary structures and worlds through simple shapes. It's intended for small-scale print.

As a kid I was obsessed with Lego, Duplo, wooden building blocks... anything I could make something with.

I'd spend hours building things, imagining new worlds, new machines, new concepts, then i'd take them apart and create a whole new idea to explore.

To me, this piece to me is a reminder of that time - many days spent exploring ideas with those simple objects - no care for viability, for marketability, for audiences or business. Just pure fun.

Without this time in my life, I doubt I'd have found my passion for creating in the way I do today.
---
Price
Dutch auction
64
->
48
->
32
->
24
changes every 15 minutes
Auction starts
June 19, 2022 at 17:00
(1)
Royalties
15.0%
(1)
Tags
/
---
Metadata
open in new tab
(0)
---
---
---
---
---