---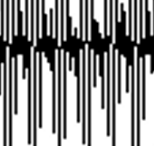 ---
M4LF0 [🎧]
---
---
---
Project #27593
Published on
Epileptic trigger
Animated
Audio
---
M4LF0 -> Modulacions 4: LFO

-NOTES:

-'Click' to START/pause.

-Save current frame -> press 'S'.

-The preview is an approximation of the actual output, since the actual output is generated based on the audio generated by the synthesizer, a real preview cannot be generated.

-When viewing the piece with a mobile, the visual effects are limited ( many devices do not support it).

-Modes can be forced with the keys:
·'M'-> force mobile mode (less visual effects)
·'D'-> force desktop mode (more visual effects)

-100% code generated (no images or sounds preloaded)

-All audio stuff is done with WebPd except analyser and output compressor and delay.

-All visual is done with hydra-synth.

-Chrome browser recommended

-Headphones recomended. Some extreme sounds (frequency and amplitude) can be generated.

-Supply can be halved/reduced and the price can be doubled if half supply has not been minted (every 24h aprox).

DESCRIPTION:

-a synthesizer generates the sound and this is represented visually.

-the sitetizer has 3 possible modulations: FM, AM and phaser.

-carrier and modulator canhave 3 different types of wave: sine, square or sawtooth.

-the modulator is an LFO (or noise)

-each piece consists of 8 steps.

-each step has randomly generated synthesizer parameters, visualizations and duration.

-after the first cycle, the parameters of each step can change with higher or lower probability randomly (fxrand).

-that's why in this project there are no defined fxfeatures, since they can change in each cycle. So we get an infinite and unique sequence for each piece.


---
Price
0.8
Minting opens
(1)
Royalties
15.0%
(2)
Tags
audio
sound
glitch
noise
hydra
synth
visualisation
wasm
puredata
webpd
lfo
glitch
---
Metadata
open in new tab
(0)
---
---
---
---