---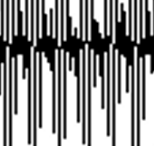 ---
seq01
---
---
---
Project #21132
Published on
---
seq00 is a visual/sound sequencer. The sound and graphics are randomly generated by fxrand(). Al sounds are synthetics generated by monophonic synths. The center vertical line is the time line. The border vertical lines are the range of frequencies.
Features based on fxrand() function:
-num_steps: Number of sequencer steps-> 64, 96 (rare) or 128 (rare).

-frequency_range: possible range of frequencies of sounds-> all=45-2500Hz, high-> 1000-2500Hz (rare) and low 45-150 Hz( rare)

-interval_time: time interval between sequencer steps-> 0.2 s, 0.3s (rare) or 0.4s(very rare).

-steps_enabled: percentage of steps enabled, so steps that will sound.

-steps_has_effects: percentage of enabled steps that has sound effects.

First of all You will see the final graphical result of generated sequencer.

Click 2 times to start the generation of sequencer from 0.

Click-> start/pause sequencer.
---
Price
0.5
Minting opens
(0)
Royalties
12.0%
(3)
Tags
sound
audio
visualization
lines
synth
noise
---
Metadata
open in new tab
(0)
---
---
---
---