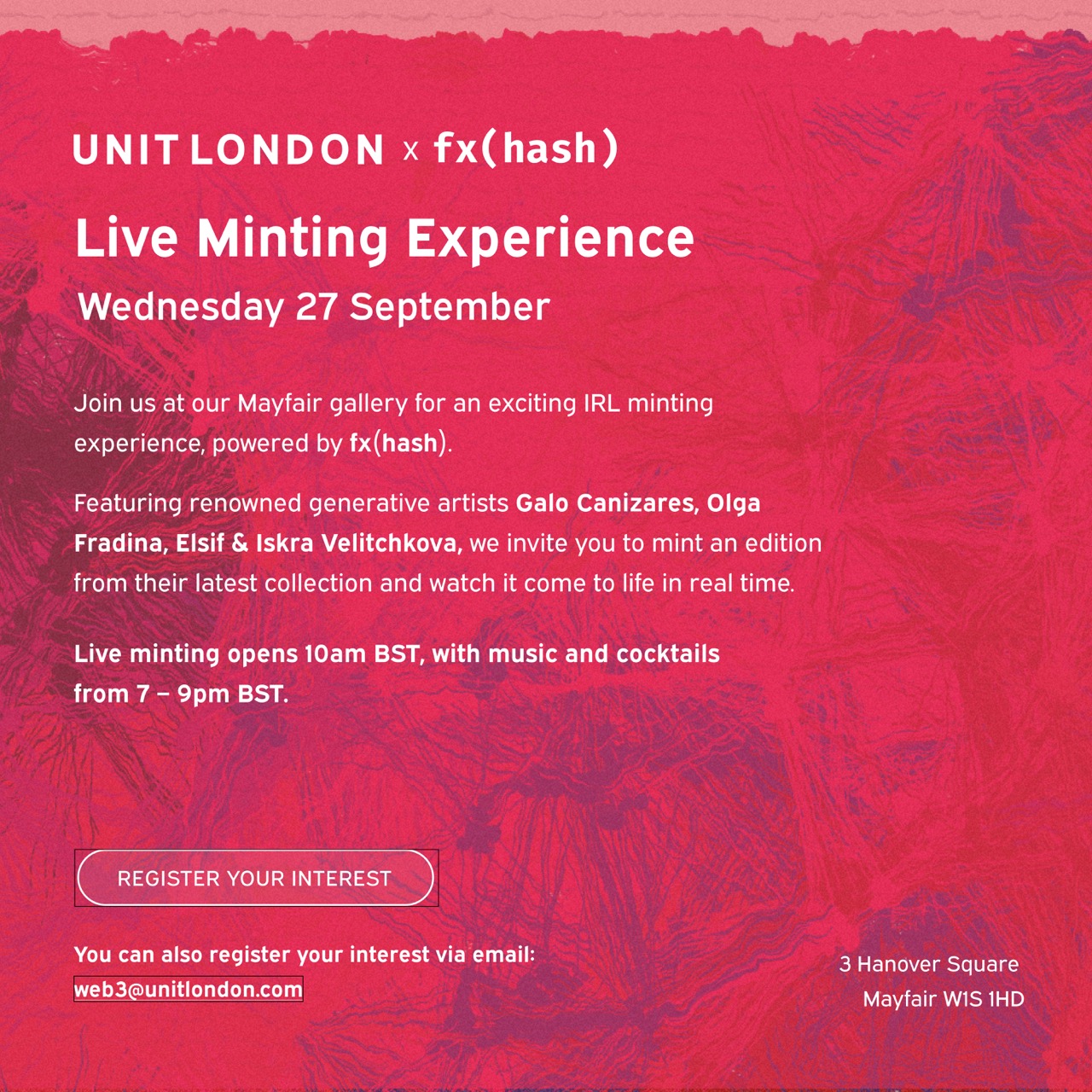 Live minting Experience at Unit London, featuring fxhash
---
27th September, 2023
Unit London Mayfair Gallery, London
---
Registration
Registration for the event can be done here
---
Live mint by Iskra Velitchkova
Iskra Velitchkova stands at the intersection of art and technology, forging her path as a computational artist, both in their digital and physical manifestations. With an extensive background in Data Visualization, Iskra has lent her strategic expertise to various scientific teams in recent years. Her artwork finds its mooring in generative systems, where lines of code transmute into entirely new realms of imagination and narratives about the human experience and uncharted landscapes. Her artistic journey has taken her across the globe, with exhibitions gracing prestigious venues such as Art Basel Miami, Basel, and HK. Notable curation credits include the Feral File shows, curated by luminaries Casey Reas in 2021 and Jason Bailey in 2022, as well as exhibitions hosted by Kate Vass, Bright Moments and Unit London. Her work has also been auctioned at Sotheby's and Christie's NYC.
---
Live mint by Elsif
Elsif is a Chinese-Canadian visual artist and computer scientist, currently living in California. She has always had a keen interest in art and started drawing realistic portraits of people at a very young age as a way to learn facial features to cope with face blindness. She was drawn to programming due to its infallibility and ability to automate and expedite what would otherwise be repetitive tasks. With a focus on experimentation in techniques and expression, Elsif creates digital art with geometric shapes and parametric curves, using lots of maths, some physics, and occasionally some machine learning. She also draws inspiration from both Eastern and Western cultures, demonstrating the beauty of algorithmic motifs and their connection to nature and human perception.
---
Live mint by Galo Canzizares
Galo Canizares also known as itsgalo, is a designer, writer, and educator working across various creative fields from architecture to digital art to experimental software. His work interrogates our ongoing relationship to software culture. Through animation, limited colour palettes and low-res graphics he recalls the strange behaviours and aesthetics of digital media and connects his work to the history of computer-based art. His artwork has been included in exhibitions worldwide, including Imperfections at Verse, London; Parallel Rules at a83 Gallery, Soho, New York and Bit by Bit at the Seattle NFT Museum, Seattle. He is currently an assistant professor of architecture at the University of Kentucky's College of Design.
---
Live mint by Olga Fradina
Olga Fradina is a generative and digital artist from Ukraine. She has been an interior designer for over twenty years, with considerable experience and international recognition in this field. In the last year and a half, Fradina has become devoted to researching and producing generative art. She works with procedural 3D graphics and creative coding, looking for a personal approach to the creative possibilities of artificial intelligence. Fradina's works are characterised by abstract and biomorphic forms, as well as a focus on the study of emotional states. Her creative practice is interested in the dynamic relationship between human and machine creativity.
---
WIP - Iskra Velitchkova

WIP - Elsif

WIP - Galo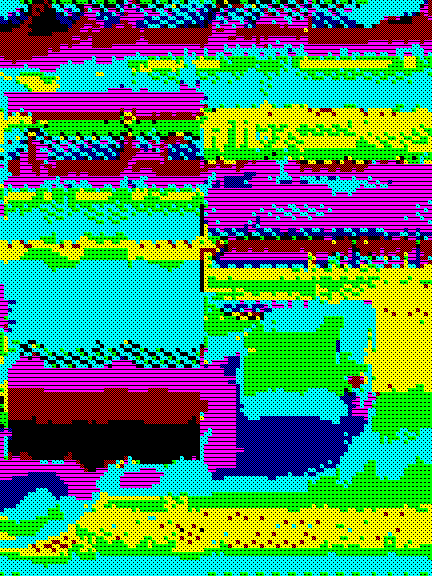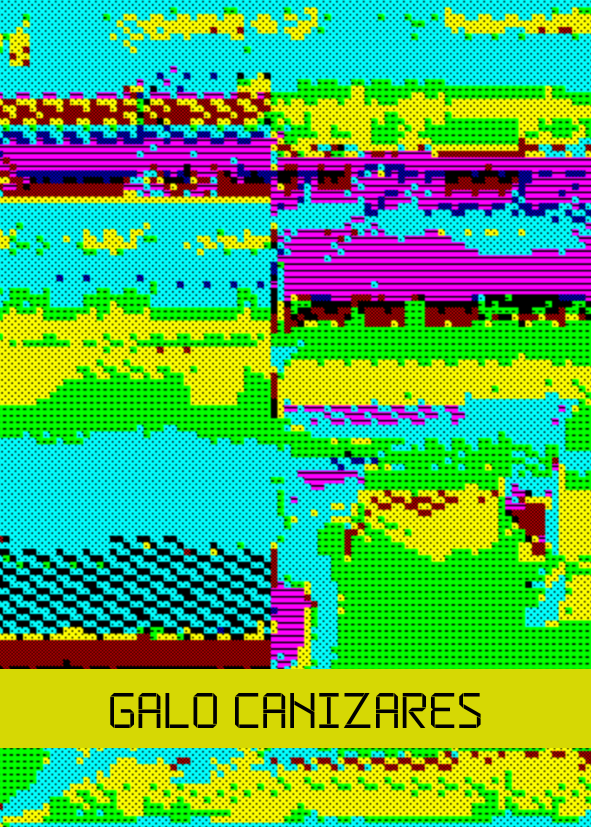 ---
WIP - Olga Fradina